Yes, you read that correctly. This will be my last blog post here.
Don't worry, I'm not going to discontinue blogging all together! I'm not that crazy! Just not here where my little blogging heart started with it's first beat in October 2011. Metaphorically, I consider Foto Friendly Family a caterpillar. It was where I began my life as a blogger. I grew and had my blog grow with me. I felt the need to branch out and become the much needed "new identity" of a butterfly. Spreading my wings in my new home, and being free and comfortable in my blogging skin again under a new URL.
I've moved and taken all of my past posts with me to... Creating Cassie. Click my new Blog Button below to get to my new blog site.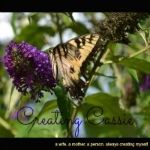 As some of you may already know, I originally created this blog, Our Foto Friendly Family,
in October 2011 when Annaliese was born. I had always enjoyed writing and thought about maybe doing the blog thing for awhile and finally took the leap. I thought it would be a really good way for me to put our family updates out there to our friends and family who may not want to be glued to Facebook or Twitter for my updates. Since then I have come to have a love/hate relationship with blogging. I
love
to write my family updates, thoughts, experiences, life lessons, etc., but I
hate
that I don't always have the time or allow myself the time to blog as much as I want to. It's definitely an understandable self conflict that I deal with. I love nothing more than to actually
live
my life than always finding time to blog about it. So like I said...love/hate.
So why "Creating Cassie" you ask? Well, after spending 1 1/2 years blogging under a "family blog" or "mommy blog" as some would call it, I no longer felt comfortable in my blogging skin under that name. I wanted something that I could have that I would use for not only family updates and mommy thoughts, I wanted a space I could use to write anything I wanted. I'm a 30 year old woman who loves to explore myself as an individual as well as the wonderful world wide web. I didn't feel that I could do that under the name of "Foto Friendly Family" or "Foto Friendly Mom". In July 2013 I created this new blog, Creating Cassie, where all of my blog postings will go and I can feel more comfortable knowing that it's coming from me as a person not just me as a mom or wife just because I'm married and have children. Yeah, it may sound weird, but that's right up my alley anyway. ;)
So there you have it folks. I am no longer the blogger "Mama Cassie", "Foto Friendly Mom" or anything like that in my blogging world. I am just me. "A wife. A mother. A person. Always Creating Myself". Thanks for sticking with me and standing by me through all of my changes here and following me to my new blog to watch me continue to create myself in the future! XOXO